#ippp: put yourself in the photo. you are interesting enough already.
Welcome to #iPPP! GFunkified and I want to see your funny, your yummy, your heartfelt, your favorite phone photos of the week. All you need is a blog post containing at least one photo from any phone camera. Link up below!
******************************
A few days ago I introduced my self-portrait per day project and talked a little on what it's about. Each day since January 4th I've taken a self-portrait of some kind or another. Every day. I have a record of my day to day happenings. With my kids or without my kids. With my husband or without my husband. It matters not. So long as I am in the frame and as long as I've pressed the button to release the shutter. That's the deal. I call it good.
But as things go, sometimes it's easier to discuss what something is by defining what it is NOT.
So allow me to expound further and tell you what this self-portrait per day project is NOT. It's not about being pretty. Looking beautiful. It's not about being embarrassed to see myself in a frame. This project is not about finding the most flattering angle or most entertaining, thought-provoking, deep moment each day in my life. Let's get this straight. This project is not about physical appearances. This is not about snapping a self-portrait to showcase what I'm wearing or not wearing (except of course if the outfit itself is somehow meaningful!) But then again I'm not saying looking cute or whatever is a crime. Hell no! I'm just saying it's a bonus if I can pull it off on any given day.
What I am saying is that this project is about SELF. It's about letting that self be captured. Letting the YOU shine through. You. And me.
I want you to see me. Really, ME.
I want to see you too. Really, YOU.
I've heard you say these things. I'm shy. The camera doesn't like me like it likes you. I could never make a photo look like that. My life isn't interesting enough. We don't go anywhere or do anything. How would I ever capture something different every day? I care too much about what other people think to do a project like this. I'd be afraid to do a project like that.
Woah.
Do you know what? In real life, I'm kind of shy too. Sometimes I look at what the timer has captured and my eyes are half-closed or I'm not in focus or there's too much blur and movement or. You name it. I press the shutter and I try again. It takes mere seconds to do that. Almost all of my self-portraits are taken here in my home. We've got our routines too. It's school and meals and general stuff in between. Nothing out of the ordinary but maybe a trip to Target or Home Depot. This project isn't about going out of my way to make a special moment happen. It's about capturing the ordinary moments that are already special. It's 365 days of self-portraits, people. Some are going to look the same! Some are going to be very different! Some days I'm going to knock it out of the park! What a selfie that was! And others, meh. That just looks like plain ol' me sitting on my plain ol' couch with my kids scattered about. So? So be it.
That's my life. And it matters.
What is your life? Because it matters too.
Want to learn more about yourself as I'm learning about myself? Step in front of the camera. You don't even need someone else to snap the shutter for you. This is taking The Mom Stays In The Picture to the next level. This is about taking charge. Thinking creatively. Putting aside self-doubt. This is about looking beyond the physical you and seeing what's there. What's there? What is it? Who are you?
And guess what? You can make your own rules. I've certainly made my own rules. For this portrait below I set the camera on a stool. I said Tillie, let's go sit on the couch. Will you tell me a joke? We took maybe 5 photos of the two of us on the couch. This is one of them. Partly staged yes, but authentic and lovely still. The way she draped herself in my lap. The way I'm sweeping her hair out of her face. That's our relationship in a nutshell.
Look. There we are.
That's me.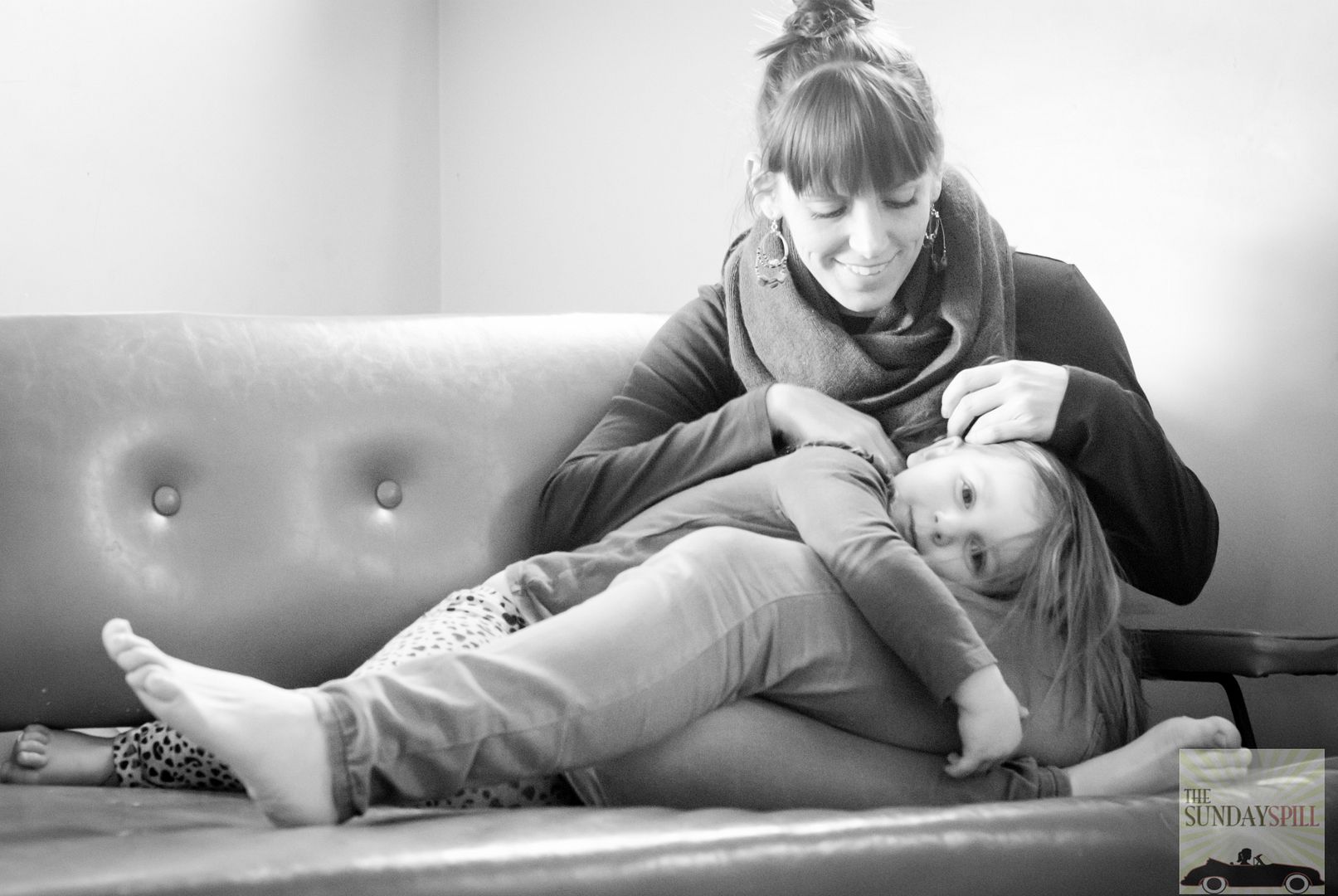 Show yourself. Prove you exist. If you even decide to take ONE self portrait. Tell me about it. I'm thinking about doing something bigger with this project. Featuring your self-portraits. Starting a meaningful self-portraiture campaign. Forget about three hundred and sixty-five self-portraits.
Why not try just one?
If you'd like you can check out my self-portrait per day album so far for more examples.
**************************
Now it's your turn to grab the badge in the sidebar and join in the #ippp goodness.
25 Responses to #ippp: put yourself in the photo. you are interesting enough already.